My Birthday was some days ago, and I had a wonderful day, with my family and friends, and also my YouTube friends that nicely added comments in my channel wishing me a Happy Birthday, thank you so much to all of you, and thanks to Shena, Tenesha, Chiara, Belén and Elena for the b-day presents.

I have some collabs & projects in the making now.
-BlueSkiesProdz collab almost finished (our first vid will be uploaded in some days) Unfortunately Sam & Caddy aren't in the group anymore, Patty hasn't been online and we've been busy, that's why we haven't upload our first vid yet, but now is almost finished. In the collab are participating 9 members per now (biteme104, CDS1Productions, asluve, LeighHeni, soupshop, kellygirl2002, twilightsHorizons, SarahMarie78 and I (Bombonrosa)). The vid is looking amazing!

-KillTheLightStudios is working in collabs too, we've been busy as well, but we hope to have a vid ready soon.

-I also finished my part for a Multicollab with the amazing Courtney (BlacksGodDaughter), the collab is looking amazing too. I really loved her idea & I'm so glad she invited me to be a part of it.

-I have some other collabs in the making (I need to hurry) with MissLittleSammie, an other one with twilightsHorizons, and I've been invited to 3 collabs more, but I need to finish the other ones first.

As for my individual projects, I'm planning a Twilight/New Moon vid, I finally got an idea for a song! I hope I can get inspiration!
2010 has begin! I wish all of you to have a very cool year!

Some of my projects this year are:
- To end with my English courses
- To find a job (related to my career)

About YouTube, I'll continue making Twilight/HarryPotter/Gossip Girl videos ofc, and I'm also planning to make more fandoms.
And the collabs with KillTheLightStudios and BlueSkiesProdz are still up.

I opened a formsping.me account (www.formsping.me/Bombonrosa) and I've been getting and answering interesting questions :) Thanks guys!
In my next projects I have a new Jacob/Bella vid, some collabs (with twilightshorizons, misslittlesammie and others...)
I really hope I can finish them soon :)
Happy New Year everyone!


Yes I know, I haven't post so many recent entries in a while... What's new?? Well I finished 5th semester on my career (Journalism). Some weeks ago there was an event of my career in my school and I'm SO happy that I made an inauguration video for the event ^^ I'm finally on holidays. Christmas is near, yay! I've got some presents. About YouTube... a lot of new things! :P

To begin with I joined 2 fantastic collab groups with awesome friends and vidders: http://www.youtube.com/user/KillTheLightStudios (with Chiara, Sam, Tenesha, Stina, Heathyr, Zosja, Caro, Sammie & now Felicia that joined us) We already have 3 vids there and we'll be posting the 4th one very very soon, maybe this week :) In the fifth one we're planning to invite the other girl who won the contest (DreamRockxx) to join us. And then, I'm also in BlueSkiesProdz, a new collab group. All of them are also very cool friends and vidders, (Caddy, Dinah, Cindy, Sam & Tenesha (again), Patty, Anne, Shena, Yanni, Heni & Abbie), I can't wait to have our first collab done soon!

I'm also happy that some of my videos have been featured in some sites such as http://eternity-edward.skyrock.com/ & twilightersanonymous.com (talking about my Edward/Bella/Jacob- The moon that breaks the night & Edward/Bella- Hallelujah) I really appreciate it. I have been talking so much in Twitter: http://twitter.com/bombonrosa Love Twitter! I have some new videos "Edward/Bella/Jacob- The moon that breaks the night", "Always in this twilight" & the newest "Jacob&Bella- Apologize". Hope u can watch them :) That's everything per now. :P



</span></span>


This is a collab with my friend Sam (MissLittleSammie, previously know as Littlemizzpoison)</span>
Yay! Don't trust no... Never trust no... :)
Thanks to Naty and Aranam for the prize in this vid! :)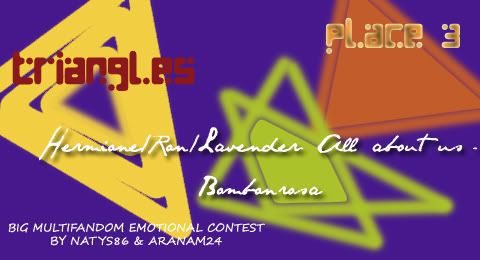 So I know that since a lot of time ago I haven't post an entry... So I think I'm going to start again... :)